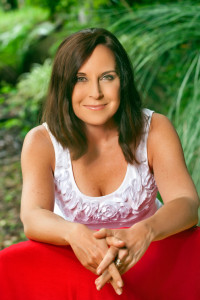 I've been blessed to live a very full and varied work life. Basically until I discovered my true passion/calling, I was a workaholic and studyaholic – out of choice – I Loved working and studying, always so very inspired with learning. So I've enjoyed a wide and extremely varied work life (mmm DJ, Club Med kids club etc etc) So here's the 'summary'.
As soon as I was able, I began formal studies in food as medicine, nearly 30 years ago. Have always felt it important to walk the talk. To really get a 'feel' for whatever I was learning. Read everything I could, applied the principles and observed the results, not always with success, that's learning though! Whilst I was doing my foodie study, figured it important to have 'proper' Uni creds  – so completed a Bachelor of Arts in recreation management – a sports medicine degree combined with a management degree. Back to food – loved macrobiotics – macro = whole/balance + bios = life – studied by correspondence and locally. Then so excited to travel to America and study at world's macro hub – the Kushi Institute. Discovered though that students and teachers sometimes misinterpret the original precepts – so whilst many have great health recovery, especially with cancer, many replace the concept of balance with restriction, forgetting the important including cultured veggies, sufficient quality fats/oils and an abundance of fresh local fruit and veg.
Seeing the challenges in macrobiotics led me to its source – Chinese medicine. Macrobiotics is a bit like Chinese medicine made easier to understand for the public – the yin and yang concept being completely reversed. Completed studies at the Traditional Healing Arts college – acupuncture, herbs and of course my favourite – Chinese dietetics – food as medicine with the esteemed Geoff Wilson – author of many great books – my favourite is – Food is Energy: How To Use It.
During this time I'd moved into the 'mainstream' world for work – orthotics, then as national sales manager for the breast care division of a large international medical company. Here I discovered I loved to teach and write – so became a certified trainer through the Australian Institute of Management and ran seminars all over Australia for women recovering from breast cancer, plus also wrote a national publication for them (which of course just happened to also include recipes and healing food info.)
Then came my first child – and a shift in perspective. Took a year maternity leave  –new shift in studies now – natural birth and holistic child rearing. Followed the Continuum Concept by Jean Liedloff – great read for new mums. Quickly realised that returning to the corporate world of extensive travelling domestically and internationally wasn't really congruent with how I wanted to raise my children. Mmmm why not do what I really love and have been passionately studying all these years! So now the study really deepened in earnest. I looked at all the courses available nationally and internationally and discovered the very best at that time seemed to be Food as Medicine with Paul Pitchford – author of Healing with Whole Food – the 'bible' of food in nutrition colleges then and still now. So off to America again – to the Heartwood Institute. Really loved it and my passion for food as medicine continued to deepen. Decided my Chinese medicine studies needed an update also, so completed a Diploma in Shiatsu and Oriental Medicine and also Food as Medicine at the College of Natural Medicine (receiving a high distinction.)
I discovered the Weston A Price Foundation and became the 2nd person in Australia to become a chapter leader, which I still am. Coincidently the first person to join – Kyle Grimshaw-Jones is also a shiatsu therapist and now lives only a few suburbs away. When the food board was rolled into SAFE foods and it was deemed necessary to cease the legal sale of raw goat's milk, Kyle and I took the issue to heart and after many meetings and reports with them – we won! Raw goat's milk is now legally available in all states of Australia.  Don McFarlane, Kyle and myself organised Sally Fallon's first speaking tour in Australia. Sally Fallon is the president of Weston A Price and author of another great book to read – Nourishing Traditions. Her second trip to Australia I organised the complete Qld section of her tour, such a pleasure to share so many meals over that week with Sally.
Through WAPF, became aware of issues around cholesterol – that eggs actually lower cholesterol, they don't raise it. Organised a talk in Brisbane by a prominent scientist on the subject – Uffe Ravnskoff author of The Cholesterol Myth. A man who also walks the talk – he consumed dozens of eggs daily as part of a study to debunk the egg cholesterol myth and had been brought to Australia by the egg board to present these studies at a major conference.
Fermenting veggies was catching my attention again – so organised for Sandor Katz to run a workshop in Brisbane. Sandor's book Wild Fermentation is perhaps the most comprehensive book available on cultured food. It's wonderful to see how – finally! – the benefits of fermented foods have now become even trendy. Last time here was in Australia we shared a laugh together at his current huge popularity  though he's still the same lovely down to earth bloke.
More recently organised the Qld section of Nourishing Australia's PALEO tour featuring Nora Gedaudas. And spoke about the GAPS diet at the Low Carb Down Under Paleo conference.
I am the Queensland board member for Nourishing Australia, teach Advanced Food as Medicine at the College of Oriental/Eastern Medicine, run nutrition education workshops. Am the 'nutrition' therapist with Practitioners Connected – a group of practitioners who focus on paediatrics. Have completed training in Dynamic Healing (2 ½ years), Chi Massage, Power point healing, Kinesiology, Reflexology, Feng Shui Gong, am a Certified GAPS Practitioner – trained by Dr Natasha Campbell McBride, plus a string of other dietary courses and seminars too long to bore to you.
Then there are all the self-development and healing courses (walking the talk). A few of the highlights of these have been – in the 90's – a 10 day water fast with daily enemas for the Bernard Jenson program, fire walking and many other fun events with Stuart Wilde, explorations with Don Tollman. More recently – over the last 10 years – liver cleanses, Chi Gong workshops, Healing days and workshops, seminars and residential retreats with Mike Robinson – author of The True Dynamics of Relationships and The True Dynamics of Life – highly recommend these. Words can't even begin to express my gratitude for the light, truth and love that Mike Robinson, Jo Le Rose, Lisbeth Skovmand Nielsen, Miriam Young, Madonna Sharpe and Katie Webster have each revealed when I've participate in the many and varied workshops each of these amazing practitioners have presented. I highly recommend each of them.
And then there are the cooking courses I've taught, retreats presenting as a guest lecturer and chef, and those I've attend… Ok before I get carried away again, only most recent favourite – living cuisine culinary training – a 5 day raw food residential intensive – delicious!
Needless to say, my friends joke that mostly all them I've met on a course.
So that brings us up date, absolutely love assisting people to health and wholeness, brings me perhaps as much joy as it brings to my clients.
Summary
I began formal studies in nutrition/food as medicine 20 years ago. My studies have been continual, wide and varied:-
A Bachelor of Arts in Recreation Management (sports and human movement)
Macrobiotics through the 'Australian School of Macrobiotics' and 'The Kushi Institute' Becket, USA
Chinese medicine 'Barefoot Doctor' with the Traditional Healing Arts Centre
Cetificate IV in Training Australian Institue of Management
Whole Foods & Nutrition, Heartwood Institute USA – principle lecturer Paul Pitchford – author of 'Healing with Whole Food'
Touch for Health Kinesiology levels I to IV
Food as Medicine at the Australian College of Natural Medicine – High Distinction
Diploma in Shiatsu and Oriental Medicine – Qld College of Oriental Medicine
Certified GAPS Practitioner – trained by Dr Natasha Campbell McBride
Certificate in Dynamic Healing (2 ½ years) – trained by International best selling author, spiritual teacher and healer Mike Robinson
On going monthly and annual training with Mike Robinson
Plus Reflexology, Chi Massage, Power point healing…

And a string of other courses too long to bore to you, needless to say, my friends joke that they mostly all met me on a course of some kind.
I am an Advanced Food as Medicine Lecturer at the Qld College of Oriental Medicine and the 'nutrition' therapist with Practitioners Connected – a group of practitioners who focus on paediatrics – one practitioner per modality, each selected on proficiency
I also volunteer as the Brisbane chapter leader for the International Weston A. Price non-profit nutritional organization (12+ years), am the Qld board member for the non-profit group Nourishing Australia (5+ years) and the Brisbane co-ordinator for the non-profit Traditional Foods Network. I write for several health and parenting magazines and am a guest lecturer and cook at various residential retreats.
"Most people don't think of food as medication, but in reality, it's the single biggest medication we're exposed to."
Neal Barnard M.D. President of the Physicians Committee for Responsible Medicine Washington D.C.
"Let food be your medicine and medicine be your food."
Hippocrates